Pointing HostFav's Nameservers in GoDaddy
If you purchased your domain name from GoDaddy, you'll need to point it to HostFav in order to use it with HostFav's Hosting. The best way to point your domain to HostFav is to update the nameservers in your GoDaddy account to HostFav's nameservers. In other words, you will be telling GoDaddy to make HostFav the web host and email host for that domain.
1. Log in to your GoDaddy account.
There are currently multiple versions of the GoDaddy interface in production. If your GoDaddy dashboard does not match the steps and/or screenshots listed in this article, try following the steps in Set Custom Nameservers for Domains Registered With GoDaddy, then refer to our list of HostFav nameservers.
2. Go to Domains.
3. Click on Manage and then Manage DNS

Or

4. Go to Nameservers Section and Click on Change button


5. Type HostFav's Nameservers
NS1.HOSTFAV.COM

NS2.HOSTFAV.COM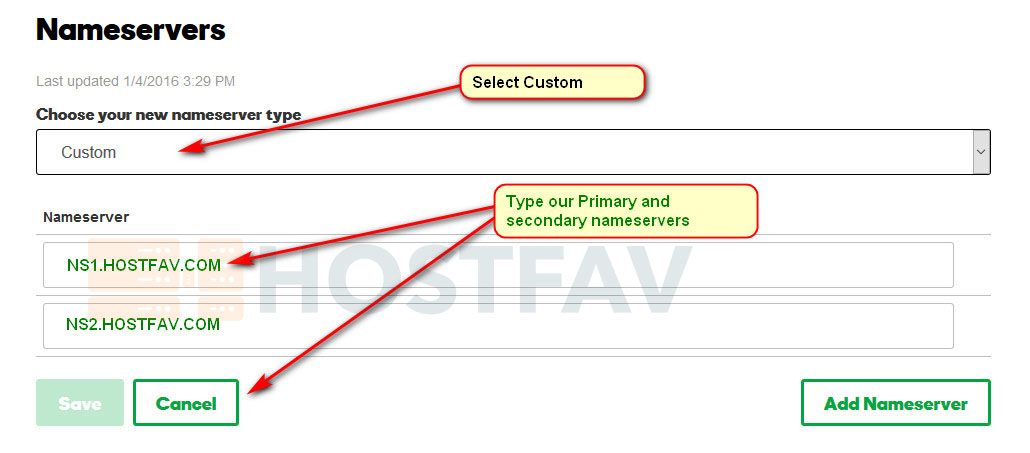 6. Click on Save to apply changes

After updating your nameservers, allow 4 to 8 hours for other networks to access information for .com and .net domain names, and allow 24 to 48 hours for other networks to access information for all other domain extensions. If you have difficulty, contact our 24/7 technical support team for assistance.